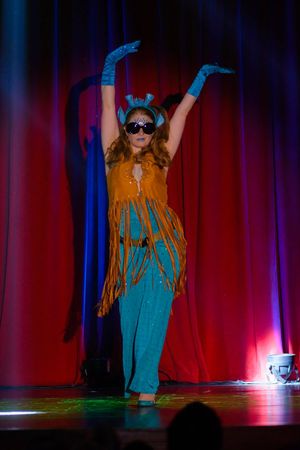 Photo by Naked Lens.
I've stitched every sort of garment except gloves and shoes. Bras are the worst to me, along with trying to use knit fabrics in situations best suited to woven fabrics. I love learning and I am confident I could learn to make anything.
But, I'm not doing that any more.
My Greedo costume consists of mostly purchased pieces: Amazon vest and belt, sale jumpsuit that I rhinestoned, Amazon gloves and sunglasses. I made the head piece and rhinestone appliqués for my face. I commissioned a custom panty from Ruby Lead that I love.
I could've made the entire thing from scratch, but it wasn't worth it to me. The time involved in getting the right shape in the jumpsuit or figuring out the best way to make the panty weren't worth the hassle.
Besides, Ruby makes panties all the time. She's made so many panties that she's worked through the kinks that I'd have to endure to make it right. She nailed it, and I didn't spend too many hours trying to get it right.
I prefer to get experimental with my own costumes and garments when time allows. Having to learn on someone's commission is stressful.
If you talk to me about a commission, I'll refer you to someone else on the pieces on which others are expert. Ickymuffin's body harness for the Mr. Gibbles act that won Mr. Exotic World 2018 was made by Doris Night. In the hours I've been working on corsets and gowns, she's been honing her harness skills. I have two harnesses she's made and I love them.
Don't let people shame you for buying ready-made pieces for your costume. Buy that $50 corset online if you can't afford custom. Get that jumpsuit that's on sale. Spend $20 on a cheap bra that fits. Just cut out those tags and make those manufactured pieces look fabulous.