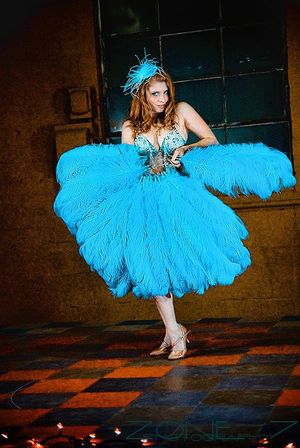 The first time I performed in Dallas was the summer of 2010, almost three years after my first amateur burlesque performance with a group and four years after I started pole dancing. I'd been back in beginner ballet classes on and off for a few years. (Making beautiful shapes while fan dancing was a great excuse to be more on than off with ballet.)
Before burlesque, I'd earned my stripes as an actor and singer. I did way more acting than singing. I still have dreams of being able to play guitar for an audience, but that's going to require more practicing than I've done in at least five years.
This photo by Lou O'Neal in a hot warehouse in Ft. Worth in summer showcases my beautiful fans designed by Catherine d'Lish and built by Evie Lovelle. I still have those fans. Invest in quality props and costumes and they will last.
The costume was relatively inexpensive compared to my current creations. I sold it to Gwen Ruby a few years ago and it looks incredible on her. I've grown so much as a costumer and performer that I was ready to move along from this costume.
My metabolism has slowed a bit and my flexibility has diminished a bit from the day this photo was snapped. However, that knowing look in my eye is now matched with actual knowingness. While I'm always learning and always working to better engage and delight audiences, I'm so very comfortable when I hit the stage to strip.
No matter where you joined me on this journey, I appreciate you letting me entertain you.