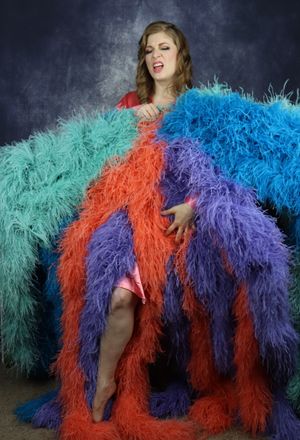 I made my first set of feather fans back in 2008. I got a discount kit from Ostrich.com and made a nice set of baby blue fans. A costume designer decided that fall that my fans should be peach and green, so I traded out the feathers.
My next pair of fans was a gorgeous pair of baby blues, designed by Catherine d'Lish and built by Evie Lovelle. I did some costume and fan assembly with Catherine and Evie, and asked to be paid with a new pair of fans. In December 2009, I got this huge pair of gorgeous fans that I still have.
I learned a little more about technique and made a pair of coral fans on my own. I got staves from Ostrich.com and a volume of feathers from Fancy Feathers. They were double layered beauties built in 2012.
The James Franco Bukowski movie (still unreleased) required three fan dancers, so I built another set of coral fans with staves of my own making. We passed those fans and my original coral fans between the three of us when we filmed in 2013.
Along the way, I've made other people's fans from scratch and done plenty of rebuilds. Every fan presents its own challenges, the greatest being poor-quality feathers. To be honest, the fan will only look as good as the feathers on the staves.
I built my boa fans for my birthday this year. I sought guidance from Donna Touch, a fellow performer who has focused on innovating feather fans. Donna makes fan staves and assembles fans far more frequently than me. I ordered big staves with a copper penny finish, and followed her advice closely for my own assembly.
Let me tell you, if I'd tried to navigate my first boa fans on my own I would've gotten very angry and destroyed something. It was wiser for me to ask someone more experienced in this milieu for tried and true tricks. Her kits include staves, hardware, video instructions, and wrenches in the correct size that can be dedicated solely to the fans.
Fan assembly is time consuming, even when you've done it a few times. I always charged too little for the hours required. I didn't want to manage feather purchases for commissions, but I was also frustrated when people didn't get the best feathers to do the job.
I won't be taking any more fan commissions. There are other people out there like Donna who can guide you to do your own, or charge an appropriate amount to do them for you. (I get paid a lot more as a writer than I ever have for a commission.)
My colorful boa fans won't see the stage for a few more months. They move a bit differently from my other fans, and that requires conditioning. I don't want to put something into the world that isn't quite ready if I can avoid it.